Our qualified service team at the newest DiMillo's location in Oxford, Maryland can perform spring commissioning, new boat commissioning, oil and fluid changes, winterization, bottom painting, detailing, haul boats up to 60 feet, and more!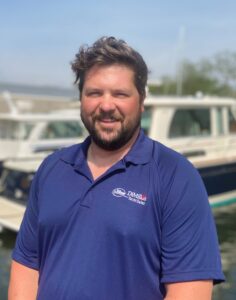 Sam Fifer started his career at DiMillo's as a service assistant in the spring of 2022 after relocating his family from the US Virgin Islands to Maryland's Eastern Shore. When the opportunity to lead the team as Service Manager arose, Sam knew he was ready for the challenge! He brings many years of marine experience, both at the helm and in the engine room, to the Oxford Service Team.
Jerome Butler joined the DiMillo's team as an experienced detailer and is proud to bring his expertise to the location. He enjoys spending time with his family and cooking in his spare time. Jerome is taking each opportunity he can, to grow his knowledge base and add to his skill set.
Connor Lewis, a former member of the US Army, is our service apprentice. He uses his experience as a tank mechanic to help guide his new journey in the marine service field. When he's not in the DiMillo's service yard, Connor also enjoys time with his family and friends anywhere outdoors.
Click HERE to learn more about the Oxford, Maryland service team!